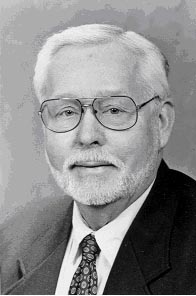 Gerhard Forde (1927-2005) was a preeminent American leader of the twentieth century Luther Renaissance. Forde was a long time professor at Luther Seminary, St. Paul, Minnesota. When Dr. Forde received the Joseph A. Sittler Award for Theological Leadership in 1994, he was honored as one who "stimulated Christian laity, clergy, and theologians to think more deeply and more clearly about the central dimensions of the Gospel: Christ's atonement and our justification by faith."
Gerhard Forde did that and more. He was an international leader in the twentieth-century Luther Renaissance, a worldwide network of scholars rediscovering the decisive dynamic of Luther's own thought. In recognition of the importance of his own leadership, Forde served as President of the International Congress for Luther Research (1985-1993).
Forde was also a major contributor for over twenty years in the U.S. Lutheran-Roman Catholic dialogue, an arena in which some of the most creative theology of the twentieth century was done.
At his retirement in 1998, Forde said: "I have tried through the years to present the integrity and truth of the tradition, especially as found in Martin Luther, in a way that is interesting, compelling and exciting."
For more information on Forde's life and work, see Marianna Forde: Gerhard O. Forde. A Life. Minneapolis: Lutheran University Press, 2014.